https://cusdinsider.org/cvhs-wrestler-neila-fritts-wins-state-championship/
CVHS wrestler Neila Fritts wins state championship
By Lou Ponsi
Neila Fritts has participated in sports since early childhood.
The Capistrano Valley High School senior played soccer for several years and completed two marathons by eighth grade. Fritts also played some volleyball and water polo.
But when Fritts stepped on the wrestling mat for the first time as a sophomore, the other sports became a memory.
Fritts' total devotion to the sport recently paid off on high school wrestling's biggest stage.
Grappling against the state's best wrestlers, Fritts emerged as the state champion at 235 pounds at the CIF State Wrestling Championships held Feb. 24-26 at Mechanics Bank Arena in Bakersfield.
In the championship match, Fritts earned a thrilling 1-0 victory over top-seed Annika Miles of Elk Grove with an escape in the final minute.
"I went into (the match) with the plan of not doing anything on impulse," Fritts said. "I'm not going to rush, even if I have to win 1-0."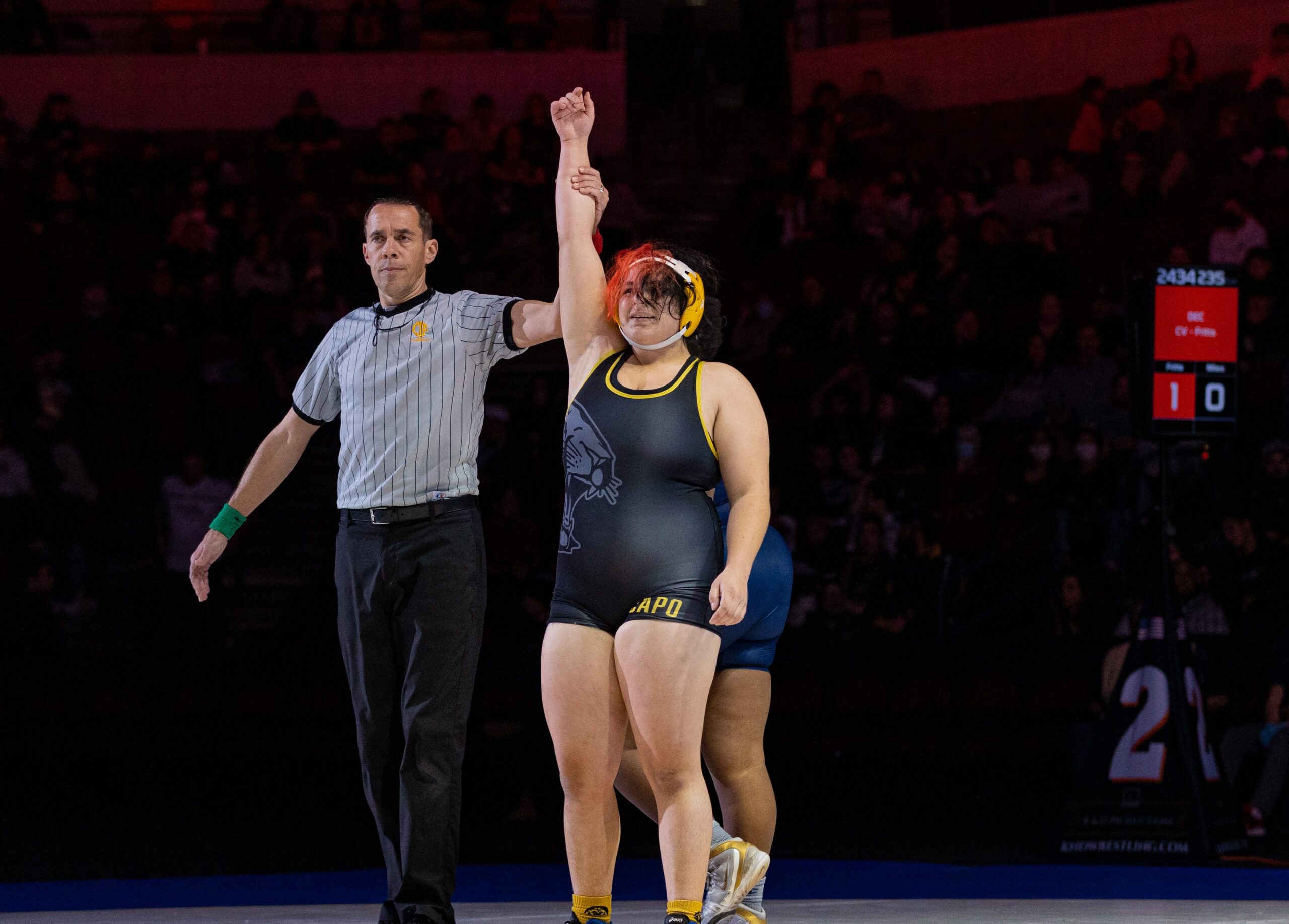 The referee raises Neila Fritts' hand in the air seconds after Fritts earned a hard-fought 1-0 victory over Annika Miles of Elk Grove in the 235-pound championship match at the 2022 CIF State Wrestling Championships held Feb. 24-26 at Mechanics Bank Arena in Bakersfield.
Photo courtesy of Chris Mora, Hollister, CA
In the semifinal match, Fritts defeated No. 2 seed Valeria Rocha of El Cajon Valley, 5-0.
Fritts only gave up a total of three points in 14 postseason matches through league, CIF sectional, Masters, and state championships rounds. Fritts finished the season with a record of 38-1, notching 32 of those victories by pins.
"It didn't feel real at first," Fritts said of standing on the podium and being crowned the best school wrestler in the state. "I never expected going into wrestling that I would be really good or be some sort of champion. It took a minute to sink in."
Cougars coach Brian Shackleford saw Fritts' potential from the beginning. Fritts was quiet, but determined, said Shackleford, who is head coach of the Cougars' girls team.
"She was good right away and worked hard and kept coming back and did everything we asked," Shackleford said. "She was tenacious and mixed it up right away."
Learning the moves was tough at first, said Fritts, who weighed 180 pounds but was competing at 189.
"It was definitely difficult but that was not something that turned me off," Fritts said. "I'm not a runner by any means but I got through two marathons. I just like a challenge. The difficulty motived me. It made me want to try harder. It made me want to get good."
As the season progressed, Shackleford knew Fritts had a legitimate shot to go deep into the postseason.
The sophomore standout, in fact, made it to the Masters tournament against some of the toughest wrestlers in Southern California, and came one match short of moving on to state.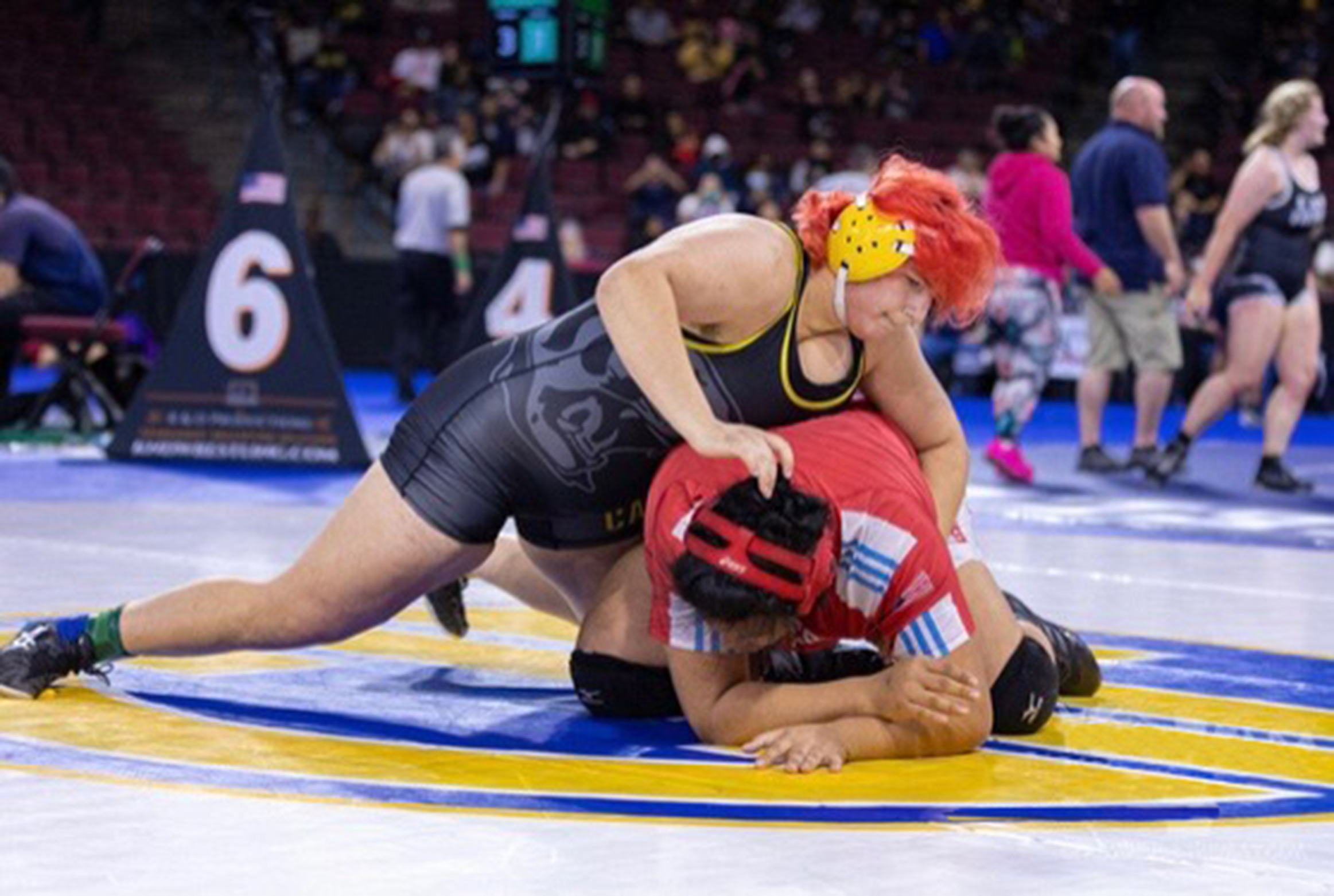 Capistrano Valley High School's Neila Fritts (top) controls Valeria Rocha of El Cajon Valley in the 235-pound semifinal match at the CIF State Wrestling Championships held Feb. 24-26 at Mechanics Bank Arena in Bakersfield. Fritts defeated Rocha, 5-0, and went on to win the state championship.
Photo courtesy of Chris Mora, Hollister, CA
The 2021 season was marred by the coronavirus pandemic, with nearly all postseason tournaments being canceled. Dual matches still took place and Fritts won every one of those, pinning all but one opponent.
As a senior competing in the 235-pound class, Fritts also grappled against much heavier opponents.
The high school season is finished, but Fritts' wrestling career is not. Fritts wants to wrestle in college and recruiters have already been reaching out, Shackleford said.
Another one of Fritts' passions is singing, and the senior will spend the last few months of high school performing in the Capistrano Valley High School choir.
Fritts is also a gifted artist whose favorite medium is ink. So, becoming a tattoo artist is also a potential goal.
There is time to figure all that out, so Fritts is taking a break from the sport for a few months.
The state champion plans to backpack throughout Europe alone over the summer, visiting family in France, England, and Germany along the way.
Fritts' long-term goal on the mat is to become a national champion.
That might be a lofty goal, but one thing that was obvious the first time the state champion stepped on a wrestling mat, is that Fritts loves a challenge.