https://cusdinsider.org/cvhs-cross-country-championship/
CVHS boys cross country team wins Sea View League Championships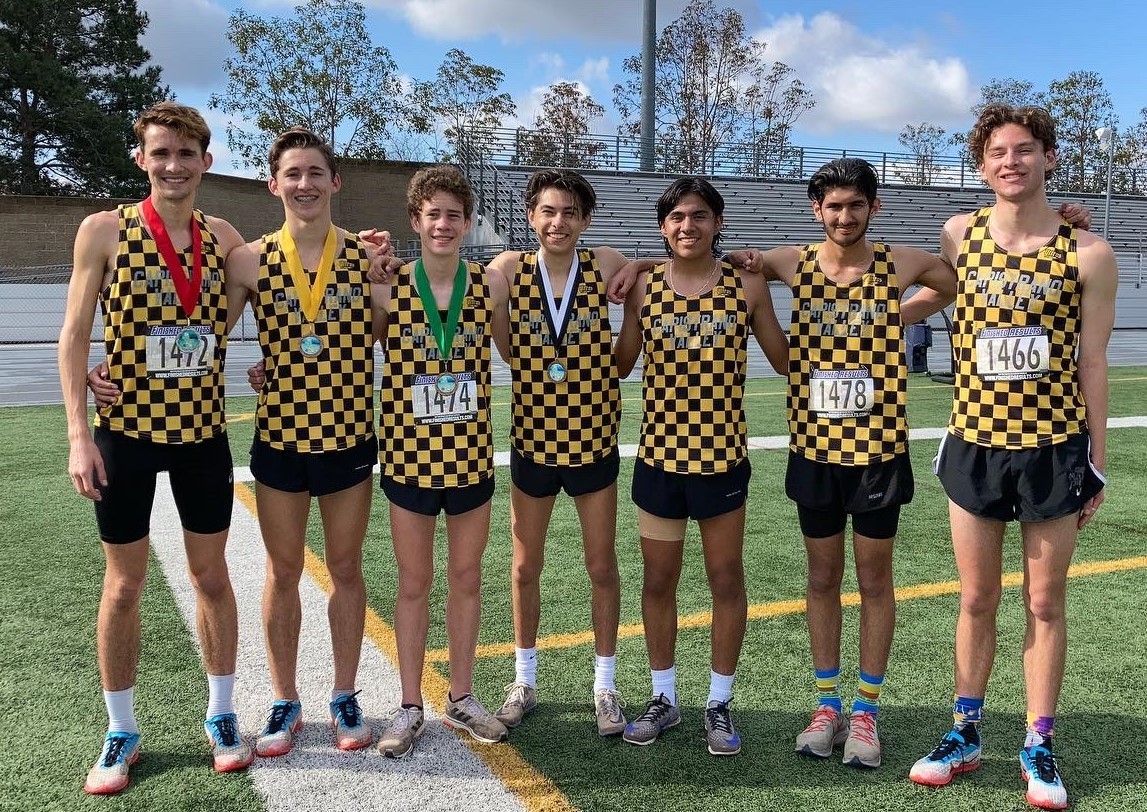 Photo courtesy of the Capistrano Valley boys cross country team.
CVHS boys cross country team wins Sea View League Championships
By Lou Ponsi
Sea View League boys' cross country teams were closely matched all season long.
So it was no surprise that the Sea View League Championships, contested March 13 at Trabuco Hills High School, also came down to the wire.
Led by senior Thomas Mordy, Capistrano Valley placed four runners among the top seven and finished with 36 points, just edging second place Tesoro which scored 38.
The league championship was the first for the Cougars since 1995.
Trabuco Hills was third with 49 and San Juan Hills finished with 116 to take fourth.
"It was almost a dead heat going into the league finals on Saturday," Cougars coach Matt Soto said. "We knew it was going to be extremely close"
Trabuco Hills' Landon Lee logged a 14:50.6 to finish first on his home course.
Mordy finished second crossing the finish line in 15:03.9, nearly seven seconds faster than his race against San Juan Hills a week earlier.
"Thomas has been our strongest runner all year," Soto said. "He did have a little bit of an injury setback early on, long before we started racing."
A pair of sophomores, Brandon Mordy, Thomas' brother, and Jack Stevens took fifth and sixth for the Cougars.
"They are both very talented sophomores," Soto s aid
Senior Nathan Shuman, the seventh-place finisher, had been battling injuries all season and the Sea View League Championships was his first varsity race of the season.
"(Shuman) kind of really made the race for us," Soto said. "He ran about a minute, 45 seconds faster than the week before."
The Cougars, along with many county teams, usually compete in invitational meets against dozens of teams
Because of the imposed safety measures brought about by the coronavirus, only dual meets were permitted this season.
"It's kind of more the nostalgic old school cross country to go to these dual meets," Soto said. "It's really low key, not a lot of fanfare or hype. In essence, it's a true competition of one school versus another. It's definitely not something we've been used to."
Cross country season has been anything but conventional, the coach said.
Teams have been training since late June, uncertain whether there would be a season at all.
Still, Soto wanted his team to be in ready to race once they got the green light.
"When the time comes, let's make sure we are going to be ready because a switch could flip and we could be on our way," Soto said. "And sure enough, that is how it worked out when the last stay-home order was lifted."